Insurance For Events & Entertainment
Entertainment & Event Insurance Australia
Working in the entertainment industry and event organisation can certainly be a lot of fun, but also a lot of work. Whoever has been tasked with putting together events knows that there are a million things to do, and they are all important, and even essential to the success of the event. Everything has to impeccable, from seating and sound to food, refreshments and many other things you're probably not even thinking about. But by far, the most crucial aspect that needs to be taken care of, before everything else, is insurance.
What kind of insurance do you need?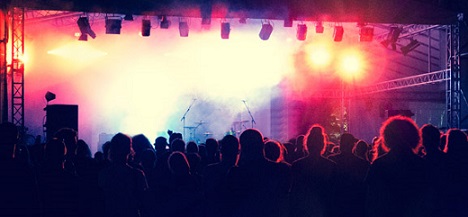 There are a lot of different types of insurance you are going to need, to go along with all the various kinds of problems that may arise and that require coverage. First of all, Public Liability insurance or Event Liability insurance are a must, in case any member of the audience damages property or gets injured during your event.
Cancellation and Abandonment insurance is also necessary, to protect yourself against losses incurred by things that are outside your control, like a natural disaster, a cancellation of the event, the relocation of the event, the postponing of the event, or the interruption of the event. Whether you are a promoter or a performer, you need this kind of insurance in case of power outages, weather, illness or even strikes.
This is necessary because when organising any kind of event, all expenses are already paid, including venue, flights, refreshments, etc. So, in the case of an unforeseen cancellation, all that money is lost, unless you have Cancellation insurance. You can never know what is going to happen and when things go south, so it's always best to be prepared for all contingencies.
What kind of events are covered by entertainment and event insurance?
To begin with, you must figure out if your event is eligible for entertainment and event insurance and what will be covered, in case of an emergency like the ones detailed above. Generally, entertainment & event insurance offers coverage for:
Festivals
Carnivals
Live Theatre
Record and Radio Industry
Concerts
Trade Shows
Exhibitions
Sporting events
Publicity and marketing
Fairs
Fashion shows
Art shows
Dance parties and balls
Cultural events
Conferences
Organisers and Management companies
Product launches
Garden shows
Rallies
Performers, entertainers and musicians
Theatre productions
Food and wine shows
Do you really need insurance?
The answer is, of course, yes. Especially when it comes to patrons, you need to be covered as an organiser, because you won't know what happens. Anyone may trip and fall at any time, get food poisoning, or some other incident that can result in a lawsuit. In addition to that, there is the risk of cancellation of the entire event for various reasons, as well as the possibility that the performers contracted fail to show up for the event. In this case, you must be protected and have a legal right to get back the money you lose because of the actions of the performer.